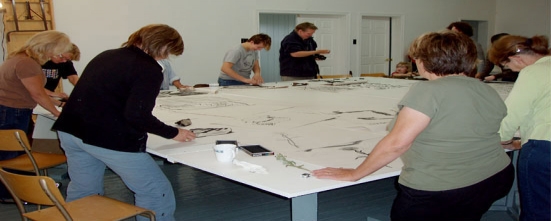 Workshops
---
---
Artists working in a wide range of disciplines provide quality art instruction through hands-on learning opportunities for people of all ages and all walks of life. The EHAC provides workshop participants with a fully equipped workspace and a professionally trained staff to assist in whatever ways are necessary. We welcome people from all levels of artistic experience to explore, learn and draw inspiration from each other, the beauty of this place, its history and culture. We tailor our workshops to small groups because we believe that intimate, intensive learning experiences are where creativity thrives.
Sunday

Monday

Tuesday

Wednesday

Thursday

Friday

Saturday
---
Showing: show_all
Events for September 2017
Sep 09

Crooked Stovepipe

8:00 p.m. to 10:00 p.m.
Fee: $20.00

After 40 years, St. John's-based Crooked Stovepipe continues its run as the oldest bluegrass band in Canada. Over the years founding members Neil Rosenberg and Ted Rowe have taken the band through four CDs plus a children's recording with Colleen Power. Their third CD, "Just In Case", was voted "Bluegrass Recording of the Year" by the ECMA, and MusicNL named Power "Female Vocalist of the Year" for her collaboration with the band.

They have played often on radio and television, and appeared at numerous concerts and festivals around the province. The band has also performed in Nova Scotia, PEI, Ontario, and Alberta. Neil and Ted were founding members of the Bluegrass and Old-Time Country Music Society of Newfoundland and Labrador and Crooked Stovepipe has been featured regularly at its annual jamboree.

Ted's son Dave Rowe, Matt Hender and Carole Bestvater round out the band for 2017.
---
---
LOADING PLEASE WAIT...