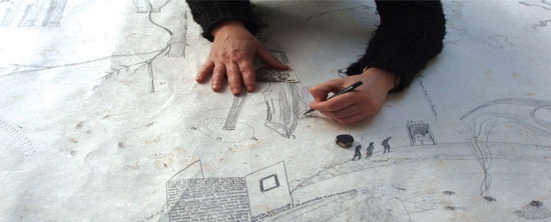 About Us
---
---
The English Harbour Arts Centre is a not-for-profit charitable organization dedicated to the promotion of artistic and cultural education and the preservation of historic and cultural spaces. We are committed to operating an economically self-sustaining institution for the arts that provides learning opportunities for people of all ages and levels of artistic experience. Our multidisciplinary program includes art holidays, workshops, residencies, community outreach, special projects and public events.




The Board

The EHAA Board is made up of five volunteers who meet annually in September, communicate regularly throughout the year, and are good friends. They each take turns working at the centre during the season, depending on their schedule of visiting English Harbour. Please stop in to say hello when you come to our harbour. We would love to show you around.

Kim Paddon, Director, Founder
Kim and her husband Dave live in St. Johnís when they arenít at their restored home in harbour, which they have owned since 1993. Kimís family is from the Port Rexton area where Kim spent many of her summers. Kim and Dave are credited with acquiring much of the funding needed for restoring the church to its present condition, communicating regularly with provincial funding agencies, and keeping the government aware of the cultural and heritage work that is the mission of the organization.

Peter Kemerer, Director, Treasurer, Founder
Peter and his wife Cynthia have spent every summer in English Harbour for the past 30 years, and were the first to take a step towards preserving All Saints Anglican Church from being sold and taken down. Peterís career as a financier has by default given him the distinction of keeping track of our revenue and expensesÖa daunting task at times. Cynthia, an accomplished artist whose work is on display in the small gallery in the art centre, has been instrumental in attracting visiting artists to the area for workshops, and can often be seen sketching scenes in the harbour.

Deb Wickwire, Director, Founder
Deb and her husband Jim live in Avon, CT when they arenít in English Harbour. Debís family (Randell) are from the Port Rexton area, which is how they found the harbour in 2002. They have restored two of the homes in English Harbour, one serving as a guest house for visitors, and take special interest in preserving the traditional look of the harbour, which is part of the mission of the organization. Deb is a potter and artist, working out of her Hartford, CT studio and her husband is a physician. Deb is the associationís webmaster.

Deborah Collingwood, Director, Secretary, Gallery Curator
As a child Deborah enjoyed trips from St. Johnís to the Trinity area with her English Harbour born grandfather. She lives in St. Johnís with her husband Peter and family. They continue to enjoy the tradition of reconnecting with the land, people and visitors of Trinity Bay each summer. Deborah is an accomplished Newfoundland artist and holds a Masters in Philosophy (Humanities)degree from Memorial University. Her work can be seen at the Art Centre Gallery in English Harbour and at The Pollyanna Gallery in St Johnís.

Elizabeth Brazil, Director
Betty lives in Gander, and has recently retired from her work in Ottawa with the federal Government. A longtime friend of Kimís, Betty has visited the harbour frequently over the years, and was quick to volunteer when asked to help preserve the old church. Her wisdom and experience acquiring support from the Newfoundland government has been critical to our success.