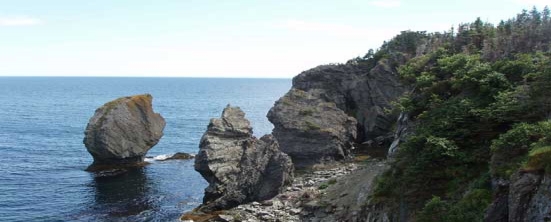 Places of Interest
---
---
Where to begin?? There is so much to see and experience it is hard to choose what to list here for you, and some of the fun is in the discovery. It will be hard to see everything on the Bonavista Pennisula but here are some of our favorites:
---
---
Elliston Root Cellars.
http://www.rootcellars.com. This community prides itself in having the largest number of intact and authentic root cellars on the world. Just thirty minutes from English Harbour, a drive to Elliston is a must. And if you visit at the right time you can walk out to Bird Rock and see nesting Puffins, or attend the annual Puffin Festival, http://www.puffinfestival.com.
---
---
Dinner at the Fishers' Loft Dining Room in Port Rexton.
Just a twenty minute drive from English Harbour will have you enjoying a delicious, four-star-rated meal while looking out at the most beautiful view of Fox Island. Make reservations since the Fishers' are known to have to turn people away. Two seatings nightly.
http://www.fishersloft.com
---
---
Port Union.
Drive a bit further up the peninsula to Port Union to discover a museum that honours the first union-built town and the work of Sir William F. Coaker http://www.historicportunion.com.
---
---
Bonavista.
The town at the end of the peninsula is a must-see, with its Ryan Premises, a restored Merchant's residence and business, the replica of the Matthew, the ship sailed by John Cabot in 1497 to discover North America, and the historic Cape Bonavista Lighthouse where one can see icebergs in the spring and whales and puffins in the summer. http://www.bonavista.net
---
---
Trinity.
The leading star of Trinity Bight is the historic community of Trinity which is steeped with history, beautifully restored homes and businesses, great restaurants, picturesque views, must-see theatre, and in the summer you can follow the Trinity Pageant which tells the story of the town. http://www.townoftrinity.net
---
---
New Bonaventure
New Bonaventure is found at the western-most edge of the Trinity Bight. The film set of the movie Random Passage is open for tours, http://www.randompassagesite.com and you can stop in at the restored school house to pick up your tickets and guide, and have a cup of tea. This also serves as the trailhead for a wonderful hike to Kerley's Harbour, a resettled outport.
---
---
Local Treasures
http://www.2roomscontemporaryartprojects.com
http://www.bonavistasocialclub.com
http://www.twowhales.com
Check this page frequently since we will showcase more of our favorite places on the island.