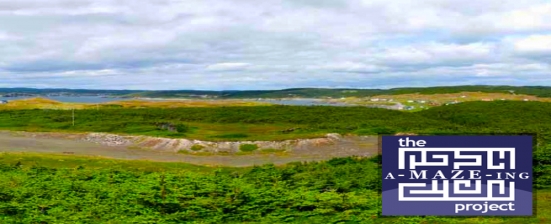 The A-Maze-ing Project
What is the A-Maze-ing Project?
Join us in the creation of an a-maze-ing project: an original piece of timeless creativity planned to be installed on the outskirts of English Harbour over the next few years. A stone maze designed by Dan Snow, an assemblage artist specializing in site-generated or locally sourced natural materials, will begin construction in June 2016.
How to Take Part
You can help us by buying a ton or more of stone. The stone will cost you $100/ton and for your contribution a stone in the maze will forever bear your name for all to see. Be a part of history; donate and help us with this a-maze-ing project.
Donate



Payment info: Paypal or cheques can also be sent to:

English Harbour Arts Centre
Site 15, Box 25
English Harbour, NL, A0C 2H0
Canada
---
Thank You to our Donors!
Lynn Spracklin of St.John's/Port Rexton, NL
Anne and Frank Norman of Kingston, Ontario
Barry Jessup of Ottawa, Ontario
David Kirkwood of Toronto, Ontario
Sally Wells of Fredericton, New Brunswick
John Penny of Staten Island, NY
John and Kathleen McTague of Maplewood, New Jersey, and Port Rexton, NL
Sheila Van Wyck and Barry Jessup of Ottawa, and Champneys East
Kim and Dave Paddon of St. John's, and English Harbour
Barb and Ron Ivany of English Harbour
Frederick and Pattilynn Conard of West Hartford, CT
Brenda McIntyre of Trinity East, NL
Robin and Don Kalsched of New Mexico, USA, and Trinity East, NL
Linda Ivany of St. John's, NL
Kathleen and John McTague of Maplewood, NJ
Joan Templeton of Toronto, Ontario
Barbara Boag of Orangeville, Ontario
Jerry McIntosh and Joanne Rosenberg of Toronto, Ontario
Cathy and Bill Dreidzic of Champney's West
Harry and Emma Paddon of Goose Cove, Labrador
Beverly and Robert O'Driscoll of Cornerbrook, NL
Mary Alice and Ed O'Reilly of Kelligrews
Margeret Baird of St. John's, Newfoundland and Labrador
Peter and Cynthia Kemerer of Toronto, Ontario
Sheila Van Wyck and Barry Jessup of Ottawa, Ontario
Anthony Batten of Toronto, Ontario
Paul Reid of St. John's, Newfoundland and Labrador
John Penny of Staten Island, New York
---