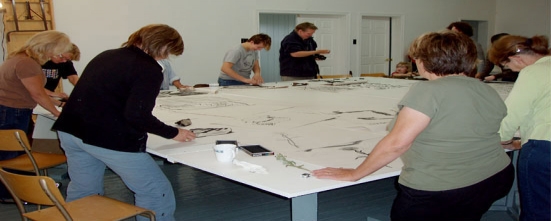 Workshops
---
---
Artists working in a wide range of disciplines provide quality art instruction through hands-on learning opportunities for people of all ages and all walks of life. The EHAC provides workshop participants with a fully equipped workspace and a professionally trained staff to assist in whatever ways are necessary. We welcome people from all levels of artistic experience to explore, learn and draw inspiration from each other, the beauty of this place, its history and culture. We tailor our workshops to small groups because we believe that intimate, intensive learning experiences are where creativity thrives.
Sunday

Monday

Tuesday

Wednesday

Thursday

Friday

Saturday
---
Showing: show all
---
---
No Events Listed for February 2018
Events for August 2018
Aug 10

Bohemians in Brooklyn

8:00 p.m. to 10:00 p.m.
Fee: $20.00




What happens when a poet, an author, a composer, his lover, and a book-loving stripper all move into the same house in quiet, wartime Brooklyn? Arguments, indulgence, infestation, questionable relationships of every description, a murder mystery, plenty of reasons for the neighbours to bang on the walls and, just possibly, some truly wonderful art. Join singers Patricia O'Callaghan and Bryce Kulak, harpist Lori Gemmell and storyteller Tom Allen for an evening in the house that once held WH Auden, Benjamin Britten, Carson McCullers and Gypsy Rose Lee, a potent mix of cabaret, social history, very juicy gossip, glorious music and all parts fun.

YouTube Video
---
---
LOADING PLEASE WAIT...