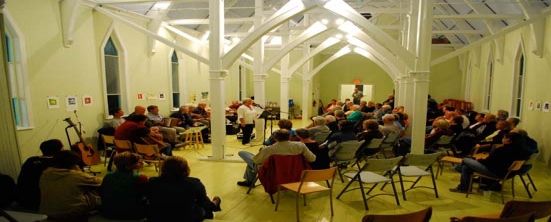 Public Events
---
---
The Arts Centre is now closed for the winter. We will reopen when the weather warms again in the spring...hopefully in April. Please check back for upcoming public events, since we will post dates as soon as they become available.
Sunday

Monday

Tuesday

Wednesday

Thursday

Friday

Saturday
---
Showing: concert
---
---
No Events Listed for June 2017
Events for July 2017
Jul 01

July 1st with Matthew Byrne

8:00 p.m. to 10:00 p.m.
Fee: $25.00

EHAA is pleased to partner with the English Harbour Recreation Committee to present our province's finest balladeer.


Storytelling through song is a fundamental duty of traditional music and one that Matthew Byrne performs brilliantly.
Born into a family of Newfoundland music makers, Matthew's repertoire is heavily influenced by that unique musical lineage "the weaving of a great story with a beautiful melody" and he supports this tradition with powerful vocals, polished guitar work, and a presence that fills the room.His repertoire transcends time and place and hislive performance reminds us how satisfying traditional songs can be when stripped down to their basic elements.
Byrne's music has traveled well beyond the rugged shores of his Newfoundland home since his 2010 debut, Ballads. Touring as both a solo artist as well as singer with The Dardanelles, he has graced major festival stages worldwide. With his second album, Hearts & Heroes, winning Traditional Recording of the Year at the 2015 Canadian Folk Music Awards, Byrne further established himself as one of Canada's most authentic and vital traditional voices.
Matthew Byrne is set to release his highly-anticipated third album - Horizon Lines - in Summer, 2017. This collection is a deeper exploration of traditional songs from both sides of the Atlantic, as well as one original ballad and a guest appearance by Matthew's dad (Joseph Byrne). Horizon Lines continues Matthew's journey through his musical lineage with ever-evolving guitar skills and accompaniment from some of Newfoundland's finest players.
Horizon Lines is available online and in-store on August 11th.

Tickets available at eventbrite.ca


Limited tickets at the door or call 464-2424

Jul 06

An evening with Ian Foster

8:00 p.m. to 10:00 p.m.
Fee: $20.00

Ian Foster is a Newfoundland-born songwriter who has toured in Canada,the U.S. and Europe since 2007. A multiple East Coast Music Association (ECMA) and MusicNL award nominee, he has released seven albums since 2006 (currently touring 2017's Sleeper Years) , and has had his music played on radio internationally. A finalist for The International Songwriting Competition (ISC), he has co-written with various artists, including the legendary Canadian folk artist Ron Hynes. Ian's story and character driven lyrics mixed with a modern musical sensibility have been described as "a great example of what a 21st century folk performer should be doing". (CBC Radio).

Tickets at eventbrite.ca

Limited seating at the door or call 464-2424



Jul 22

Allan Byrne and Scott Schilleref

8:00 p.m. to 10:00 p.m.
Fee: $20.00

Allan Byrne and Scott Schilleref blend old-timey and bluegrass songs and tunes well seasoned with some updated classic songs for a tasty heaping helping of passion, pathos and pluck. The band brings together equally well-seasoned musicians Allan Byrne - guitar, vocals (the Byrne family dynasty Blue Drop) and Scott Schillereff - clawhammer banjo, hammered dulcimer, vocals (steeped in Appalachian tradition Tickle Harbour Atlantic Union and Newfoundlander by choice).

Tickets at eventbrite.ca

Limited seating at the door or call 464-2424
---
Events for August 2017
---
Events for September 2017
---
---
LOADING PLEASE WAIT...